No matter where you go, food tastes better in fall. This October, the up! Food Guide offers a definitive where-to-eat-well map for travellers from Vegas to Montreal to Cuba. Read the digital edition or find the issue in WestJet seatbacks through October.
It's the first time up! has created this section, and acting editor Jill Foran wanted it to be friendly, in-depth and above all, practical. "Most travellers want dining advice on their destination, but it's easy to be overwhelmed by recommendations, opinions and options. For up!, we wanted to make a very useful, very specific food guide that was truly an insider's guide. We asked up! writers based in six major cities to pick chefs to interview, chefs who are deeply invested in and knowledgeable about the food scenes in their cities. Then we asked the chefs to respond to a series of questions about food and dining in their hometowns."
The result is a guide that understands what people on the go need: A must-do list. The up! Food Guide tells readers what to eat and where to eat it, when to splurge and what time of day to find, say, the best blueberry pancakes in New York City.
Says Foran: "Ideally, someone flying to Montreal will find the Food Guide, then hold onto the magazine and use it to find the spots they want to try."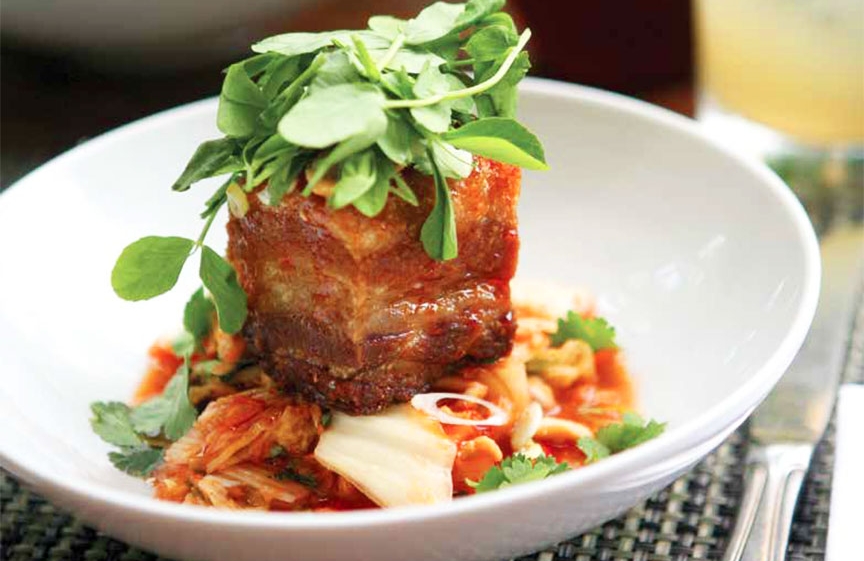 Theresa Dauncey was art director for the Food Guide. She says the guide is designed for an approachable, hip feel with plenty of illustrations, while presenting a lot of information with utter clarity. She says shooting French-Canadian chef and television personality Chuck Hughes for the cover in Montreal was a rich experience that ultimately informed the guide's fresh, rustic aesthetic. "He met us (Dauncey and photographer Jared Sych) on his day off. He made us coffee. He was very hands-on, taking deliveries, wrestling big fish off trucks. It was a real Montreal street experience."
The guide also recommends authentic sun destination dishes, and of course, tells readers exactly where to find them. For the food-curious, it recommends culinary destinations, from East L.A. foodie foot tours to Ottawa food blog workshops.