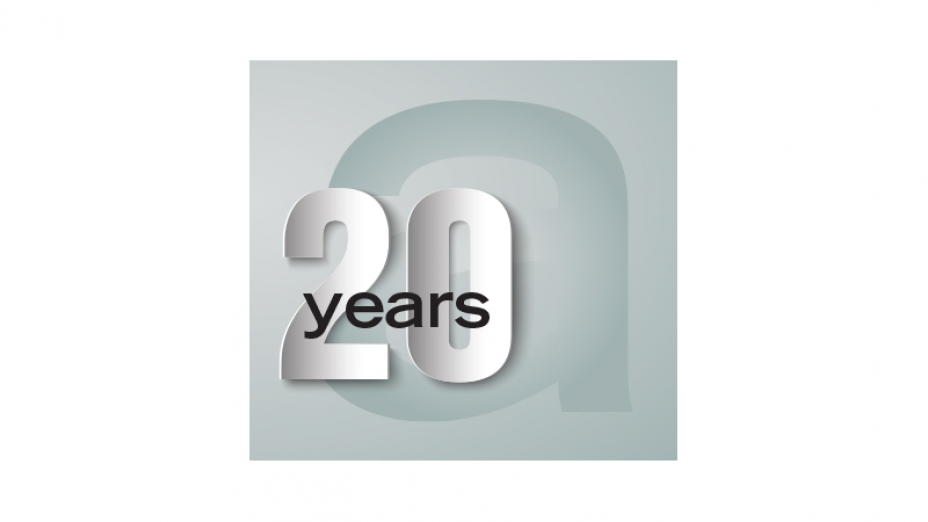 As of 2015, Avenue has been telling Calgary's stories for 20 years. That's a respectable run for any print publication, and in a place this young, it means the magazine has been on newsstands (and now, the Internet) for a significant period of the city's history. How this remarkable collection of words and images ends up in the hands of Calgarians each month is a story in itself — many stories, in fact. Here are a just a few, from some of the people who make Avenue.
The time Avenue won a National Magazine Award (for a story it had turned down)
"When Craig Davidson pitched 'Precious Cargo' to Avenue, I turned it down because it didn't sound like the right fit for our magazine. He ended up selling it to Esquire, but that publication requested such substantial edits that he ended up turning them down. He sent the story to me fully written. At the time, I was working on both Avenue Calgary and Avenue Edmonton, so I spent a lot of time on the Red Arrow going between the two cities. It's the worst place imaginable for reading, but I sat down on that bus with 'Precious Cargo' and was completely absorbed. Then I called my publisher and said the story absolutely had to run. At 7,500 words, it's by far the longest story we've ever published in Avenue. It won a National Magazine Award that year in the essay category — Avenue's first National Magazine Award for editorial."
—Käthe Lemon, Editor
Joined Avenue in 2006
"Precious Cargo" by Craig Davidson appeared in the March 2012 issue.
The day the magazine didn't arrive
Avenue often holds launch events for special issues of the magazine, where guests eat, drink, chat and admire hot-off-the-press copies of the magazine.
"When we have a special launch event, my only job is to make sure the magazines get there. For one major event in 2012, something totally unprecedented happened, and the magazines got routed through the U.S. and then delayed at the Canadian border. The printer called us a few hours before the event, beside himself. Everything had been right on schedule to that point, but this was a totally unforeseen circumstance. He said if he could, he'd go down to the border and carry five boxes to the event venue on his back — but of course there's nothing you can do when things get hung up at customs. You just have to be patient and get creative. The event went ahead as planned, with poster-sized versions of the issue cover and some of the key pages in the magazine on display (we were able to print those in-house). In the end, our printer moved heaven and earth to secure a single copy of the issue, which he delivered by hand to the venue. The fact that there was only one copy, as well as all these large magazine pages to look at, actually became a great ice-breaker. But we were all happy when the magazines arrived the next morning."
—Rob Kelly, Audience Development/Reader Services Manager
Joined Avenue in 2005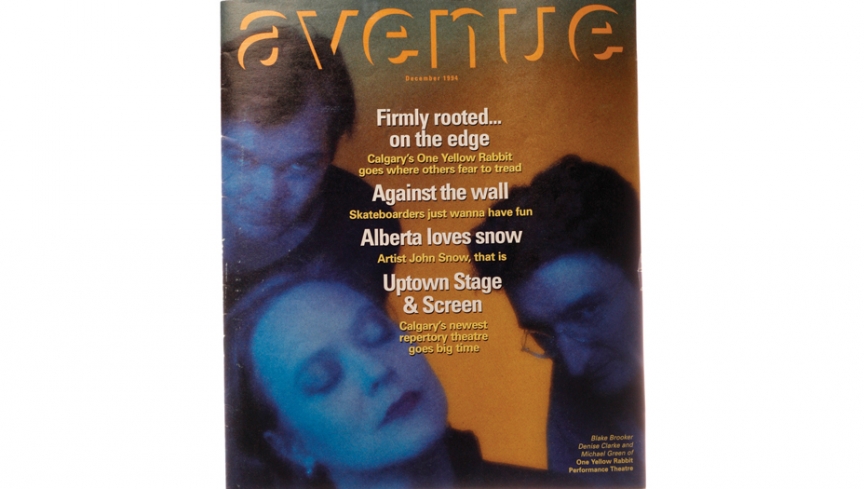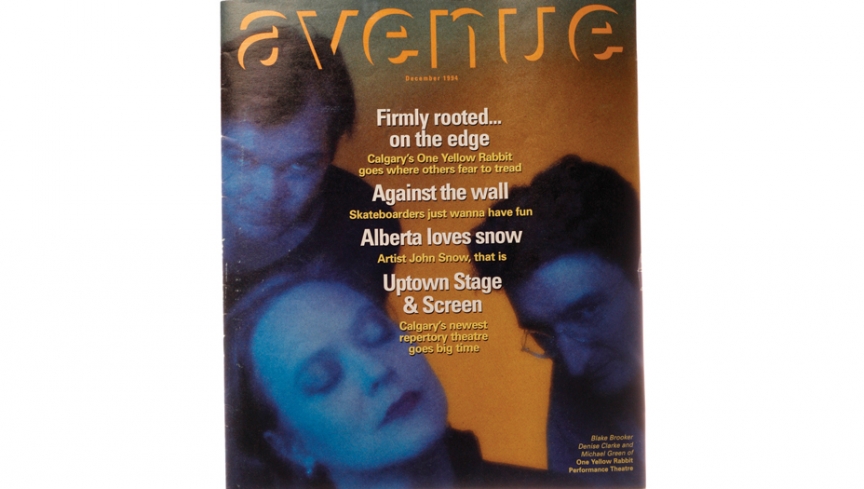 The first Avenue cover, and beyond
"The first issue of Avenue was printed in December 1994. It had an orange cover featuring One Yellow Rabbit, and it didn't look like anything else that was on newsstands in the city at that time. I was the original art director of Avenue, and the publisher was willing to take risks, so I could try whatever I wanted and give freelancers a lot of creative freedom too. We tried different photography styles, different illustration styles — it was an experiment. A few years in, we made a conscious decision to feature city personalities on each Avenue cover; before that, we tried to keep the covers compelling but they didn't have a specific focus. We started focusing more on style, more on that aspirational, inspirational feel. That was a turning point for the magazine. That's when it became a bigger magazine about a bigger city."
—Anders Knudsen, Director of Digital and Marketing Solutions
Joined Avenue in 1994
Swapping film for digital
"I started shooting freelance for Avenue when I was straight out of art school in 2000, and back then we worked with film. I'd get images processed at a lab called Aurora near the old downtown Co-op. When Avenue switched to digital photography things changed. With film, you make most of your creative decisions ahead of time, but you can't see your shots in real time so you just have to hope it's working. Shooting in digital, there are so many more options during the shoot and after. There are some challenges — images tend to look different on a computer from how they do in print, for one — but you can deliver photos faster and you can do a better job of meeting an art director's goals. And because I can see what I'm doing in real time, I'd say it's made me a better problem solver."
—Jared Sych, Staff Photographer
Joined Avenue (full time) in 2008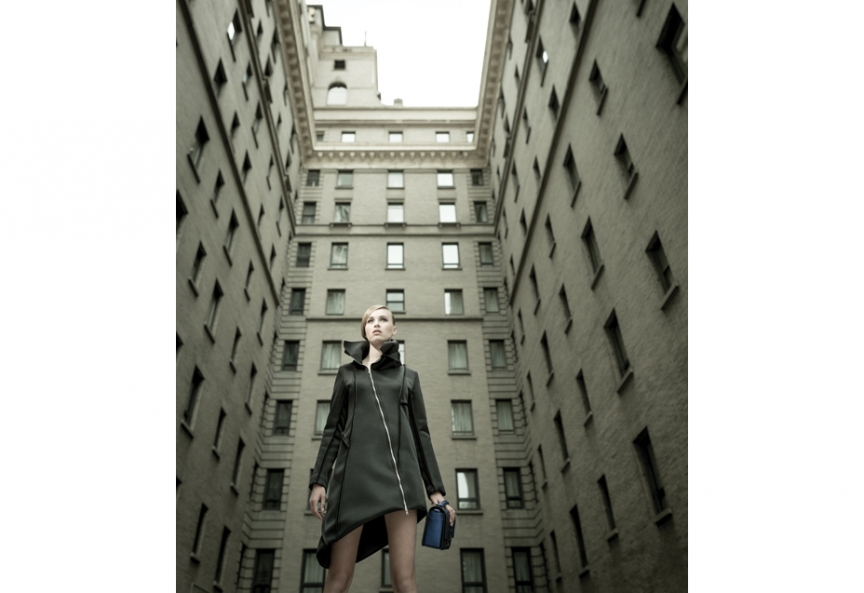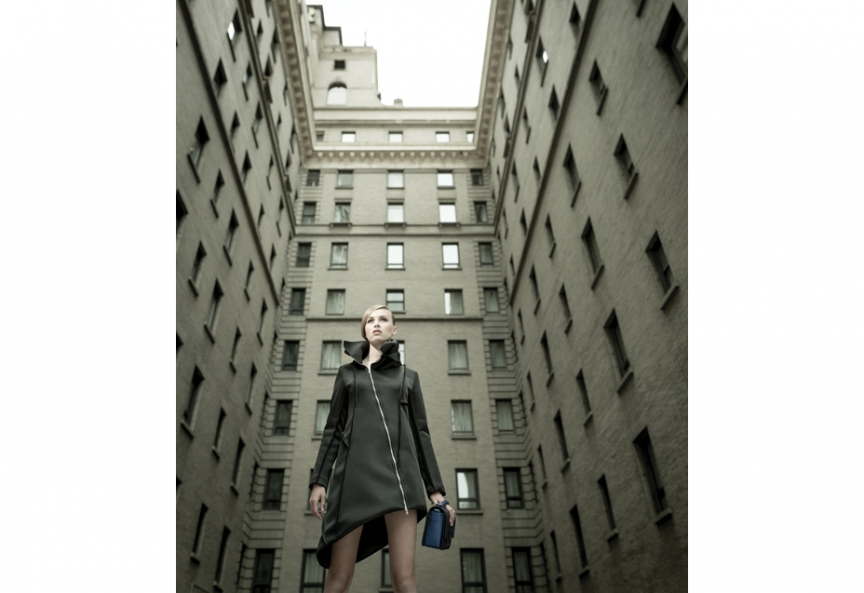 The biggest fashion shoot ever
In 2014, Avenue devoted the most pages in its history to a single fashion spread — a shoot that took place at Calgary's historic Fairmont Palliser Hotel.
"It was the Palliser's 100th anniversary year (2014) so we wanted to do a shoot there. We planned to feature the public spaces in the hotel as well as the behind-the-scenes places, so we formed a plan with the Palliser and on two consecutive shoot days, we showed up at 3 a.m. with two models, two photographers with two assistants each, three stylists and a lot of equipment. The Palliser let us in the utility tunnels and on the roof; the roof could only be accessed through a tiny window, so we had to haul ourselves and all our stuff out there. The cover shot had to be taken from the building [Encana Place] across the street. We had the stylist on the phone and were trying to get the look just right before we lost the light. You can't tell, but in the shot the model is standing on a box."
—Venessa Brewer, Senior Art Director
Joined Avenue in 2003
See the story online and in the digital issue.
Hitting publish on Top 40 Under 40
"Between the 2013 and 2014 Top 40 Under 40 issues, AvenueCalgary.com went through a complete web redesign that involved switching to a different content management system. The website was much improved, but the trade-off was that we no longer had the templates that we'd normally use for the Top 40 Under 40 project. And it's a huge project that people get very excited about. We had plenty of great content that we knew people would be eager to see, so we knew we had to present it flawlessly. We tried several different templates and options before we landed on a solution. I came in at 6:30 a.m. on Top 40 Under 40 launch day. It's always nerve-racking to hit 'publish' and launch a project of that scope, but fortunately it all worked as we'd hoped. In fact, it went nuts. We had more page views in a single day than we've had since the website launched more than a decade ago."
—Jaelyn Molyneux, Web Editor
Joined Avenue in 2009
See the Avenue Top 40 Under 40 Class of 2014
When the clouds came
"I remember staying late at the office many nights to back up the entire magazine onto CDs (and later DVDs). That was part of my job for years. Then cloud technology came along and made things so much easier. But I think the fondest memory I have of Avenue and RedPoint is how, after Calgary experienced a major flood in June of 2013, the company encouraged us and gave us time off to go help volunteer with the cleanup. I recall working shoulder to shoulder with my co-workers down in Bowness, tearing down drywall, hauling debris and helping people get their homes into some sort of order. That time really demonstrated to me how much the city means to everyone involved with Avenue."
—Mike Matovich, Production Manager
With Avenue since 2004