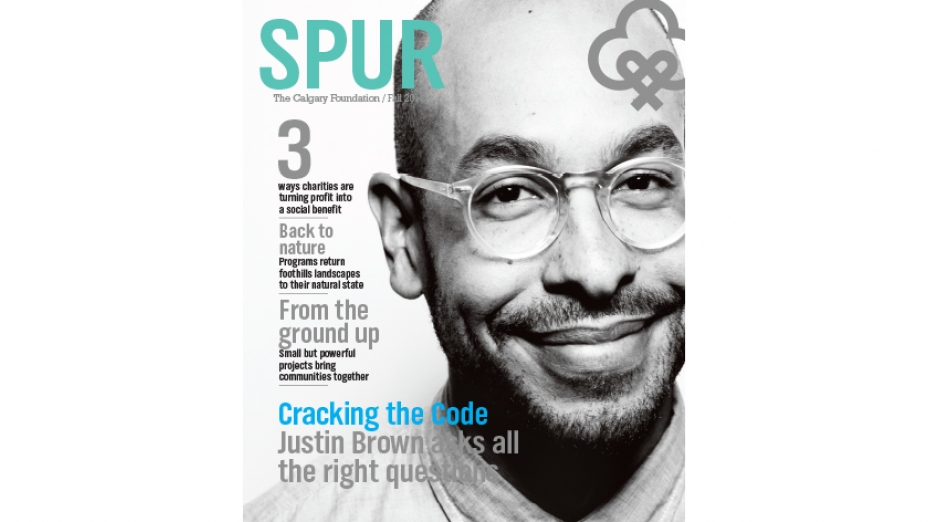 Two years ago, The Calgary Foundation decided to invest in Spur magazine to tell the organization's stories. The Foundation had a newsletter but had never considered a magazine before, and communications coordinator Taylor Barrie says it was a small gamble, like any new initiative.
"We were cautious about self-promotion because the purpose of our organization is to support other organizations. But we were involved in innovative projects, from the King Edward School to million-dollar grants, and we're looking forward to our 60th anniversary in 2015. It seemed time to rebrand ourselves."
For the RedPoint team, it was notable that The Calgary Foundation chose print media for its rebrand. While we work in both print and digital media, many of us have a special affection for print and a sense of excitement about its rich history and future possibilities.
When we agreed to create Spur for The Calgary Foundation, it reminded us of a larger trend we've observed for several years now: The role of print media has shifted, but it's effectiveness as a content marketing medium has never been stronger. If anything, the ubiquity of social and digital media has been a boon; with print no longer the default for every marketing effort, its makers and investors can take a more considered approach to projects and create higher-quality products.
For Barrie, the choice was both intuitive and strategic. Magazines are tangible, demand no technological device and have widespread appeal.  "People like to hold something in their hand. The Calgary Foundation has such a wide demographic, and a magazine appeals to people of all generations. We exist to support community. RedPoint saw that very early on."
Two years on, does a print magazine still seem like a good choice? According to Barrie, the answer is an unqualified yes. "Spur is the best publication we've ever done. We get the neatest feedback on it from people of all ages, and through The Globe and Mail distribution we're hearing great things from people we've never reached before."